What is JAPAN SPORT NETWORK (JSN) ?
Japan Sport Network (JSN) is a platform for local governments in Japan (prefectures and municipalities), established in July 2013 to strengthen cooperation and promote collaboration among local governments furthermore.
The main objective of JSN is to promote the sport policy of local governments in Japan. Local governments are the main driver for sport participation / promotion in each region.
JSN aims to be the platform for our members to share their experiences, information and knowledge to achieve the goals of the Basic Act on Sport.
The platform also includes universities and private companies. They support for pilot projects.
JSN support local governments to make innovations with these collaborations through the network.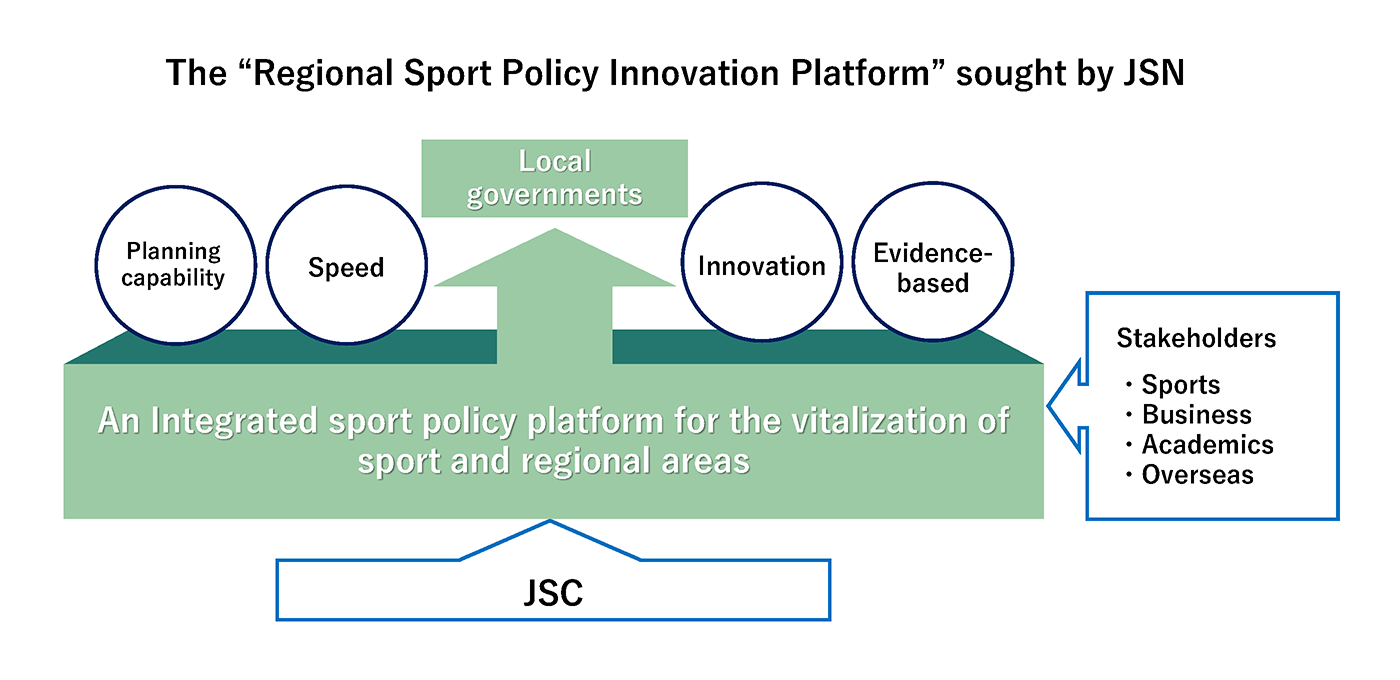 The Basic Act on Sport regards sports as a "universal human culture", and proclaims that living a happy and prosperous life through sports is a "right of all people". In order to realize this philosophy, JSC established the "JAPAN SPORT NETWORK".
JSC has concluded the "Power of Sport" Joint Declaration with 702 local governments out of 1788(as 1st October 2019) to strengthen our network with communities, and is keeping up efforts to develop the network.
Joint Declaration for "Power of Sport"
We will develop the "JAPAN SPORT NETWORK" to bring about a happy and prosperous society through sports, based on the basic principles outlined in the Basic Act on Sport. We declare to respect the philosophy of the sports promotion lottery system, foster talents who will pave the way for a better society through the "Power of Sport" in cooperation with each other, collaborate to realize dynamic communities and Japan, and jointly create a bright future.
(The Japan Sport Network members are the local governments which signed the joint declaration.)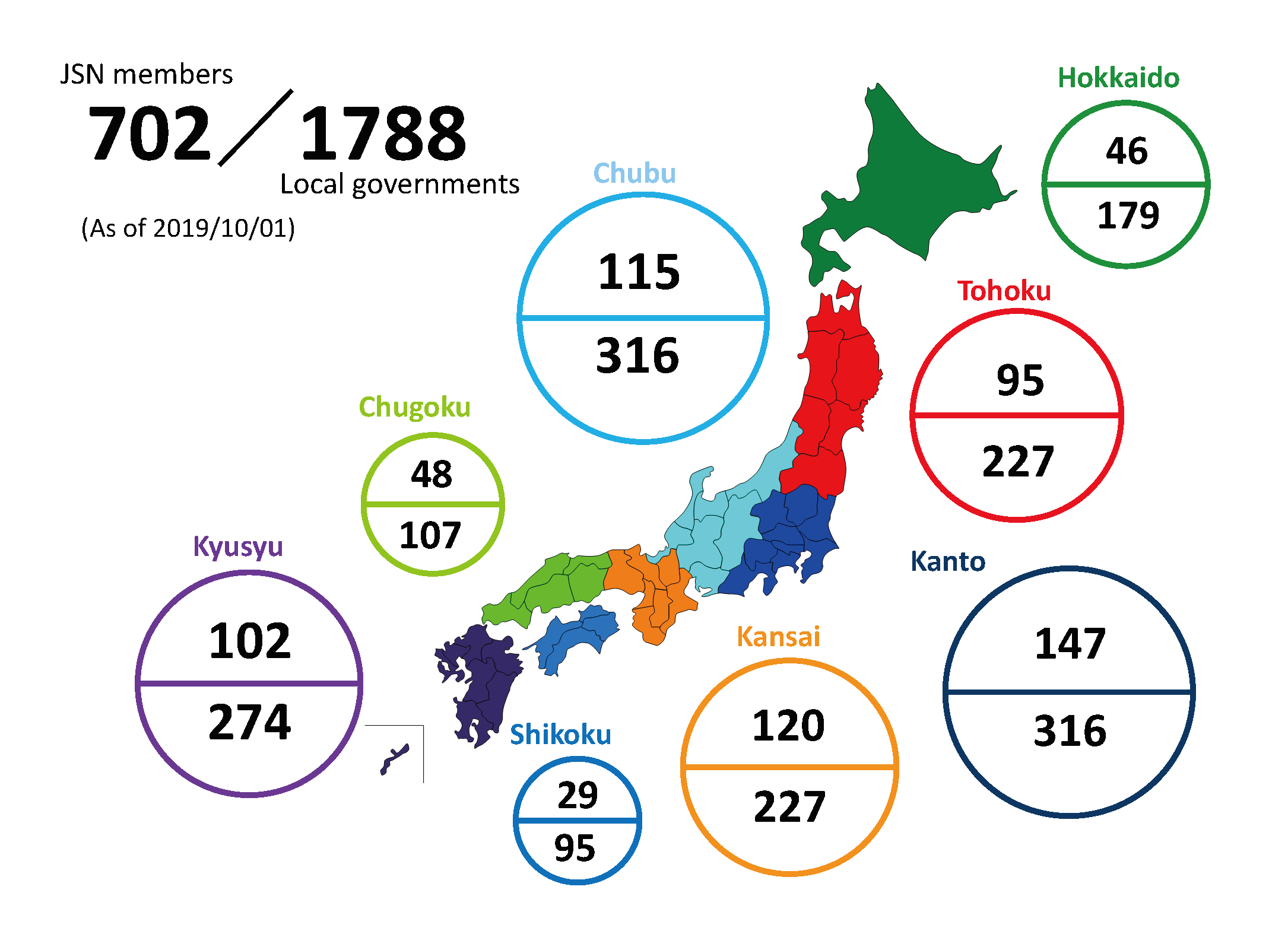 Why is the sport policy innovation needed now?
Interests in sport policy and projects are growing after enacting the Basic Act on Sport and setting up Japan Sports Agency.
There are no frameworks to support to plan/deliver better sport policy, collecting the latest information about sport policy Japan and abroad.
According to survey for local governments, most of local governments answered that they need new information and knowledge, evidence which they persuade their decision maker.
Functions: What JSN provides in the platform
JSN provides opportunities and initiatives which support regional sport policy innovation (the establishment of new programs) to local governments. Local governments can get various information, knowledge and evidence about solving regional issues, making sport policies and how inactive people join the sport events etc. JSN started to provide seminars and pilot projects aiming regional sport policy innovation in 2016.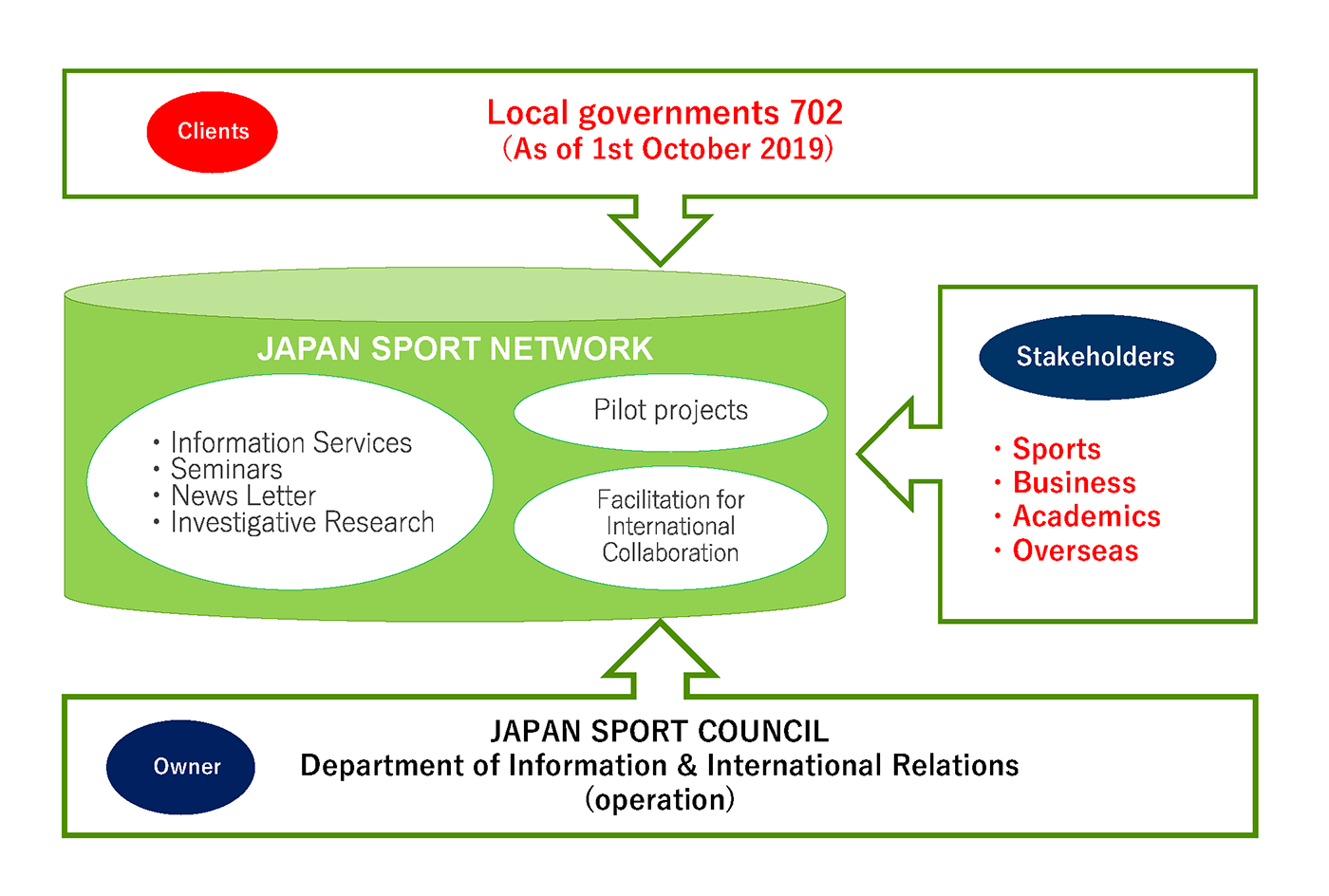 Information Service
JSN conducts researches about sport policy to identify the common issues among local governments to bring solution through sports.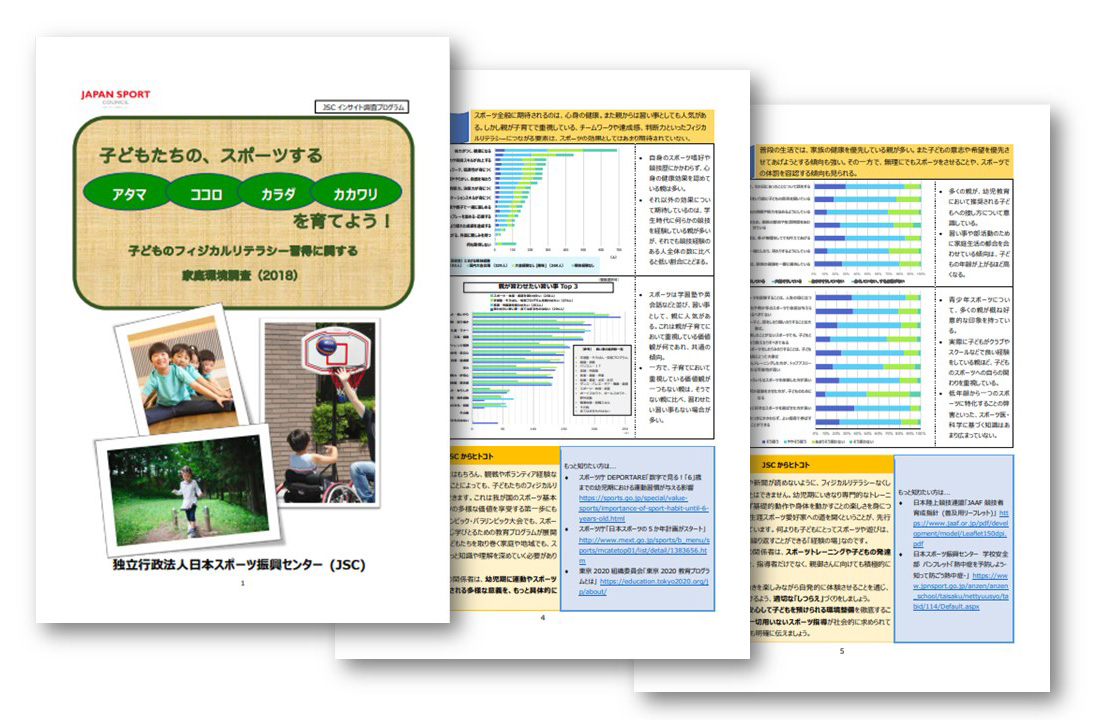 Information on the overseas latest sport policies and examples of innovative sport policy initiatives are regularly provided through JSN (via email, newsletter and Facebook)
JSC also holds seminars and workshops for the local government officers that provide systematic instruction on the latest information and knowledge of practical policy proposals and sport policy trends both in Japan and overseas.
Seminar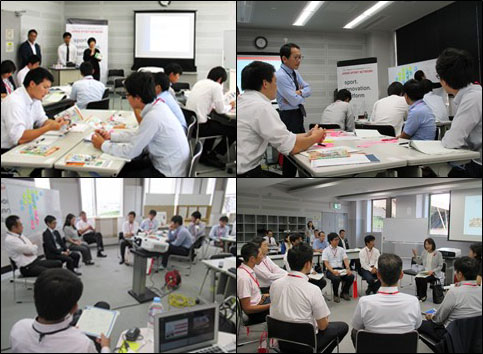 Pilot Projects
JSN holds pilot projects to solve issues in their communities through sports. The pilot projects are sponsored by private companies, making use of new plans and resources as preparatory work for the establishment of new programs. The evidence gained from those pilot programs are used to obtain the budget for new programs. The examples of pilot projects are as follows.
Read BOOK Lead ACTIVE
Support to create the self-income for sport program - Vending machines installation initiative
As an initiative to secure the necessary funds for sports promotion, JSN encourage local governments to install vending machines. The profit from vending machines is spent for sport programs in local governments and operating JSN. That is helping local governments to create their self-income.
Facilitation for International Collaboration
JSN also link up local governments to the international network that JSC has to provide more opportunity.
Four-year-project aiming to realize the "inclusive society through sports", such as promoting the moral and ethical values of sports, and solving social issues through Para-Sports with NOC*NSF.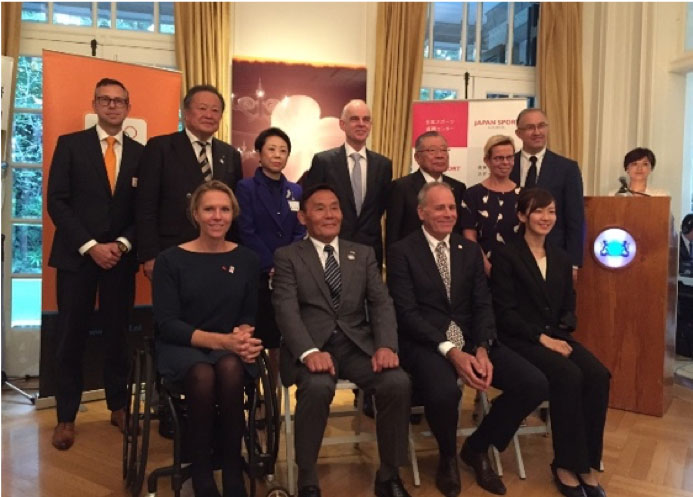 Through the Memorandum of Understanding between JSC and BOC, Brazil Handball National team had done the Visit/Exchange program with Higashi Matsushima City, Miyagi. This project aimed to promote sport participation and sense of international understanding for children, providing reconstruction program for BOC, providing opportunities and knowhow for local governments.
"The Legacy from International Sports Competitions and Pre-Training Camps ~A successful Singapore-Kochi partnership model towards Tokyo 2020~"
One of the ASIA's executive committee members, Singapore had the preparation training camp for Tokyo 2020 in Kochi prefecture. By utilizing the network, JSN hosted the seminar "The Legacy from International Sports Competitions and Pre-Training Camps ~A successful Singapore-Kochi partnership model towards Tokyo 2020~" for heads of local authorities in Kochi at the same time with the Singapore's training camp. One of the ASIA's executive committee members, Singapore Sport Institute shared their policy and activities in their country.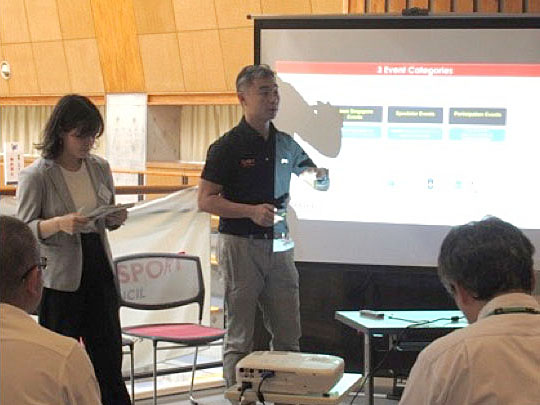 Note: Association of Sports Institutes in Asia (ASIA)
ASIA is a non-profit-making and non-government organization; it is a representative body of the group of high performance sports institutes in Asia. The association develops its main activity at the Asian level. JSC is the chair for the network.
* Please feel free to make an inquiry to JSN email address if you have any questions related to collaboration with Japanese local authorities.